ABOUT
Saltmarsh Financial Advisors is a registered investment advisor and maintains a fiduciary relationship with clients, as outlined in the Investment Company Act of 1940. We provide investment advice through fee-only, independent advisors with decades worth of experience. Our team has earned some of the industry's most recognizable designations, including Certified Financial Planner (CFP®), Accredited Asset Management Specialist (AAMS®), Certified Financial Analyst (CFA®) and Certified Public Accountant (CPA).
Working independently alongside our CPA firm affiliate, Saltmarsh, Cleaveland & Gund, we can provide access to a full range of professional services, from accounting and taxation to consulting and investment management that is based on the firm's mission statement: "Achieving Success by Contributing to the Success of Others." By understanding a client's tax profile, goals for their wealth, and their dreams of life in retirement, we can offer them truly holistic advice.
To further add value for our clients, we've partnered with Dimensional Fund Advisors, one of the leading fund families in the world, who share our investment philosophy in order to provide low-cost wealth management solutions, based on Nobel Prize winning research.
A 'World-Class' Investing Experience
At Saltmarsh, we believe in delivering 'legendary service' and being 'relentless about improvement'. Our passion for people and excellence is the foundation of our work and drives our client experience.
We survey our clients annually to measure satisfaction ratings using the Net Promoter® Score (NPS) survey methodology. We are proud to have received a world-class rating of 92.4% for exceptional client service in our most recent survey. Quality service has long been a core value of our firm and we are committed to being professional, reliable, accessible and knowledgeable. The process of surveying our clients regularly to gauge how we're doing only helps us get better and deliver on these promises.
Our story
In 1944, Thomas Saltmarsh, Harold Cleaveland and Charles Gund pooled their talents and modest resources to form a partnership for the practice of accounting. Their success was attributed to their guiding principles of honesty and integrity, accuracy and thoroughness, quality client service and most importantly, the belief that service to the community is an individual, as well as a corporate, responsibility.
Then in 1997 at the request of many longtime clients, we added Saltmarsh Financial Advisors, LLC to the firm's suite of services. We saw immediate value in the ability to leverage both perspectives while making investment decisions.
Over the years, Saltmarsh, Cleaveland & Gund has grown to become one of the largest full-service accounting and advisory firms in the Southeast, offering deep expertise and specialized consulting for many industries and high net worth individuals. Our team has been recognized as one of the Top Firms in the U.S. by INSIDE Public Accounting, a Regional Leader by Accounting Today and named one of Forbes' Top Recommended U.S. Tax and Accounting Firms.
What Sets Us Apart
While it is true many Saltmarsh clients have spent their entire economic lives with our firm, many more have recognized their potential for growth and look to us for unparalleled expertise and service. They understand that stability, continuity, and dependability are critical ingredients responsible for the firm's reputation for integrity, quality and responsiveness. Our commitment to excellence is grounded in our mission statement and core values:
"Achieving Success by
Contributing to the Success of Others"

"Integrity and Honesty, Respect,
Creativity and Quality Service"
For generations, our mission and core values have defined our firm, but what do they look like in practice? Our "Saltmarsh Way" provides the answer, with 33 distinct fundamentals outlining how we work with our clients, strategic partners and each other. They also describe the trademarks of our firm's unique culture. Learn More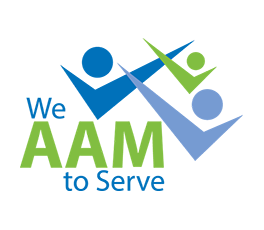 We AAM to Serve
Service has always been at the core of our firm's culture. We believe it is an honor to give back and bring awareness to the needs and organizations working to make a difference in our communities. To commemorate outstanding achievement in community service and corporate social responsibility, Saltmarsh has received the coveted "We AAM to Serve" Award in recognition of our team's passion for service and helping others achieve success.